PU and sustainability
Sustainability has become a key requirement in construction. Specifiers, developers and building owners are increasingly looking to manufacturers to provide products which are manufactured and perform in ways that protect the environment, help the economy and benefit society.
Polyurethane insulation can meet all of these criteria on a number of different levels.
.
Here are the links to sector EPD available underlining that, in the current regulatory environment, the different settings (boundaries of systems, software used, databases) of LCA studies, while being appropriate to all systems of reference and principles of the rules the ISO 14000 series, do not allow their comparative use.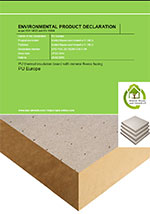 PU Europe
ENVIRONMENTAL PRODUCT DECLARATION
PU thermal insulation board with mineral fleece facing
R = 5 m2K/W
Declaration number: EPD-PUE-20130286-CBE1-EN
Issue date: 27/02/2014
Valid to: 26/02/2019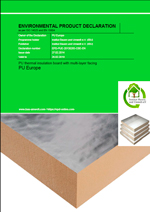 PU Europe
ENVIRONMENTAL PRODUCT DECLARATION
PU thermal insulation board with multi-layer facing
R = 5 m2K/W
Declaration number: EPD-PUE-20130285-CBE-EN
Issue date: 27/02/2014
Valid to: 26/02/2019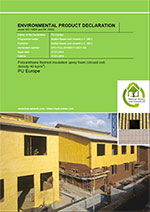 PU Europe
ENVIRONMENTAL PRODUCT DECLARATION
Polyurethane thermal insulation spray foam (closed-cell)
density 40 kg/m3
Declaratio number: EPD-PUE-20140017-CBE1-EN
Issue date: 21/03/2014
Valid to: 21/03/2019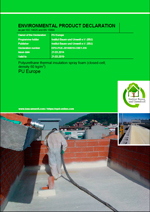 PU Europe
ENVIRONMENTAL PRODUCT DECLARATION
Polyurethane thermal insulation spray foam (closed-cell)
density 60 kg/m3
Declaration number: EPD-PUE-20140018-CBE1-EN
Issue date: 21/03/2014
Valid to: 21/03/2019